Date/Time
Date(s) - Sep 13, 2019
7:00 pm - 9:00 pm
Location
Rose City Book Pub
Categories
Join Erik Arneson from Arnemancy for a live podcast recording with Coleman Stevenson of The Dark Exact!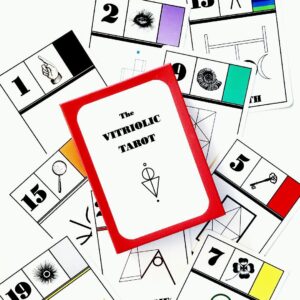 Coleman is a writer, artist, and educator living in Portland, Oregon. She's the author of Breakfast, The Accidental Rarefication of Pattern #5609, and The Dark Exact Tarot Guide. Her writing has appeared in a variety of publications such as Paper Darts, Seattle Review, Mid-American Review, tarot.com, and the anthology Motionless from the Iron Bridge. She's also the creator of The Dark Exact Tarot, The Vitriolic Tarot, The Personal Oracle, and some new awesome oracle decks that you're certain to hear about.
We will be recording a podcast episode live at the Rose City Book Pub and you're invited to watch! This place is perfect for us — it is a used book store and a pub at the same time! It's like a crazy unicorn of awesome places.
Click here to see the Facebook event or add the event to your calendar!