Since October of 2015, I have been reading cards at Pairings Portland's monthly Astrology Night event. This has been a lot of fun and very interesting, but it has brought up a lot of questions about my thoughts on astrology. It's been a popular form of divination for millenia, so that's understandable. Just today, I was reminded of something I wrote about astrology about five years ago when asked about the inclusion of Ophiuchus as the 13th sign of the Zodiac.

From what little study I've done of astrology, all the noise that's being made is pretty dumb. There are many systems of houses and at least two major schools of thought about how your Sun sign should be calculated. The system lacks scientific controls and is too open to interpretation. So I say this: the heavenly spheres are filled with useful symbols and correspondences, and should be used as such. Don't overdo it by trying to figure out which cosmic influences are making you grumpy on Tuesdays or if the transit of Venus is making you lose your car keys. That's just goofy.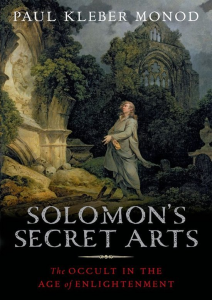 I'm not sure if people today are aware of how influential astrology has been on the development of Western civilization. For an in-depth look at how astrology pervaded the Age of Enlightenment, for example, check out Solomon's Secret Arts: The Occult in the Age of Enlightenment by Paul Kléber Monod. Chapter two is titled "The Silver Age of the Astrologers" and discusses the lucrative astrology printing business in London. The numbers are interesting!
Note added June 2019: My thoughts on astrology have evolved a lot since first writing this brief blog post. I started studying electional astrology late in 2016 and have been learning more and more. See my post on astrology in Kabbalah, for example.