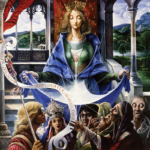 Greetings, listeners! For the past few months, we have been enjoying a deep exploration of Heinrich Cornelius Agrippa's Three Books of Occult Philosophy, and now it's time for us to make a brief detour. This bonus episode is an interview with my friend Michael Sanborn, who is releasing a translation of a new book, Letters to Friends of the Spirit by Sylvie Boyer-Camax and Rémi Boyer. This is a book about mysticism, Martinism, and modern Rosicrucianism, and I am certain you will find the interview quite interesting.
Michael Sanborn is a book designer and translator specializing in contemporary European esoterica. He participates in several esoteric traditions, including Neoplatonism, and Templarism. He is also a gnostic bishop and a member of Azoth Temple in Portland, Oregon.
Rémi Boyer has explored at length the world of the avant-garde, initiatory traditions, and philosophies of enlightenment. He works within the setting of the House of Surrealists in Cordes-sur-Ciel, for a new alliance between traditions, philosophies of awakening, and the artistic avant-garde. He is the author of some twenty specialized works, particularly on Western initiatory movements.
Letters to Friends of the Spirit, like the previous three translations of works by Rémi Boyer, is published through Rose Circle Publications, the imprint founded by noted esoteric author and translator Piers A. Vaughan.
We will be returning to Occult Philosophy next episode, so for now, please enjoy this bonus interview.
The art for this episode is a detail from O milagre das rosas by Lima de Freitas, acrylic on wood, 1987.
Support me on Patreon: https://www.patreon.com/arnemancy
Listen on Podcrypt
---
t||t.secret||t.message||t.value)&&!/[^a-zA-Z0-9]/.test(t.secret ↩