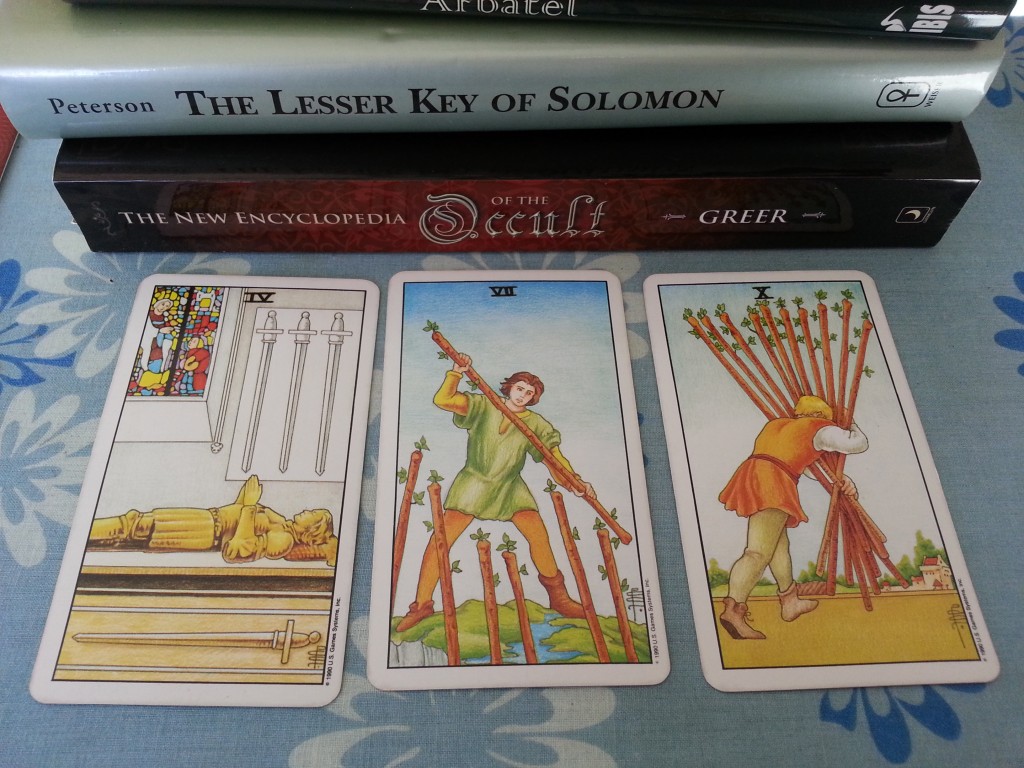 Here's a quick, three-card Tarot reading for the New Year.

Last Year: IV of Swords
The IV of Swords speaks of rest and relaxation in some ways. Fours are typically cards about standing still or stagnation. The IV of Swords is meditative. It speaks of gathering your wits for upcoming challenges, which is good, because…
Right Now: VII of Wands
Inspiration afflicted by turmoil. There are challenges at the moment, and they might be getting in the way of inspiration, and weighing heavily on the spirit. It's possible to overcome these challenges, but it will take some work.
Next Year: X of Wands
I love this card. The X of Wands is about carrying a heavy burden, but it's also about gaining wisdom and completing major goals. Tens are finishing cards. They deal with finishing important chapters and of encouraging new beginnings.
In Summary
This reading speaks of time spent gathering and waiting. Big challenges are occurring now, but the future looks pretty good. There's a ton of work to be done. Something stands in the way, and overcoming it might require assuming additional burdens. However, those burdens, the extra responsibilities and duties, lead to a good place. Wands are a great suit to symbolize the coming year.
Happy New Year!
I hope that 2015 is a prosperous, happy year for all of you! Celebrate with friends, family, and foes. Love everybody and practice virtue that you might work toward the betterment of all mankind.