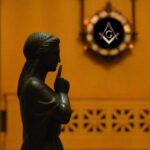 In this very special episode, C.R. "Chuck" Dunning, Jr., joins me to discuss meditation and mysticism in group practices. Chuck recently published a new book, The Contemplative Lodge: A Manual for Masons Doing Inner Work Together, which is a companion to his earlier book, Contemplative Masonry: Basic Applications of Mindfulness, Meditation, and Imagery for the Craft. While these books speak about Freemasonry, the techniques and insights come from Chuck's decades of experience as a counselor, meditator, mystic, and magician.
Our discussion covers a lot of ground, but we focus on how group work can help enhance mystical and magical progress. We look at techniques ranging from Rosicrucianism to mystical Christianity to Freemasonry, including a few stopovers with old favorites like the Hermetic Order of the Golden Dawn and Kabbalah. Chuck has a lot of wisdom to share, and I believe that his words and wisdom can offer a great deal of guidance to everybody, not just Freemasons.
As a disclaimer, I am the editor of The Contemplative Lodge. I have also known Chuck for over 20 years, and consider him an important teacher in my esoteric and occult work. My ongoing friendship with Chuck has only heightened my respect for his work. It is my belief that you, dear listener, can also learn a great deal from what he has to say.
---
t||t.secret||t.message||t.value)&&!/[^a-zA-Z0-9]/.test(t.secret ↩