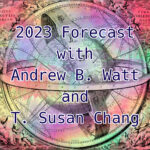 Welcome to part two of the 2023 Forecast featuring T. Susan Chang and Andrew B. Watt. Did you miss part one? You can find it here!
Remember to check out our 2023 special deals!
In this episode, we will look at charts and cards for July through December of 2023. Andrew will be handling the astrology, Susie the Tarot, and I will be moderating to make sure things stay on track. If you would like to download a PDF with all of the astrological charts that Andrew used for this forecast, you can sign up to Andrew B. Watt's Patreon or to the Arnemancy Patreon.
2023 Forecast Specials
The three of us are all offering a special discount. This year, you can use the code
23ANDYOU
to get a 23% discount off of various services and classes from our respective websites.
Remember, use the code 23ANDYOU for 23% off! Get the full details here.
Support me on Patreon: https://www.patreon.com/arnemancy