This post is just marginally related to Tarot. Today I'd like to talk about Hermeticism and the Feast of Thoth.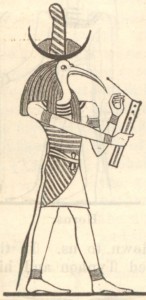 Hermeticism describes a poorly-understood school of mysticism from the early centuries of the Common Era. It arose in northern Egypt, around Alexandria, and was contemporary with the early Gnostics. We don't know a whole lot about the early Hermeticists. Their religion seems to have evolved from the ancient Egyptian religion. It definitely had an initiatic element and was deeply entangled in mysticism, gnosticism, and Neoplatonism. Most of the surviving literature from the movement can be found in a collection of short texts called the Corpus Hermeticum.
Hermes Trismegistus and Thoth
The Corpus Hermeticum relates a series of lessons from teachers to students, beginning with the lessons of Hermes Trismegistus to his son Tat and his student Asclepius. In later books, Tat and Asclepius have become the teachers. Hermes teaches about the nature of the Cosmos and human consciousness. His lessons are profound, mystical, and sometimes obscure.